Remember my post about Flowery Treat for Moms from Krispy Kreme where I have expressed my desire to receive that flowery treat from Krispy Kreme on Mother's Day. Just read the whole entry here. Apparently my husband is one of my avid readers so I know for sure he was able to read that post.
Mother's Day came and after convincing myself that I won't get anything from my ofw hubby this Mother's Day (knowing that surprises are not his cup of tea), my day sparkled when I received a call from someone telling me that my husband is sending me a box of Krispy Kreme. Wow, that's one thing I'd like to receive this mom's day and fortunately I was able to have a bouquet of flowery donut from Krispy Kreme.
How did I got it? It was a granted wish by my husband. Yes you read it right. How? Recently, Hibang (Tagni-Tagning Ideya) celebrated its 7 years blogversary and part of his blogversary celebration is the Lucky 7, where he will be granting 7 wishes of seven lucky bloggers. For the record, my husband is officially blogging at Blogeoz and that makes him a blogger too. I don't know how he gets to know the Lucky 7 happening in Hibang (Tagni-Tagning Ideya) but he was one of those 7 lucky wishers that Bernard (author of Hibang) was chosen.
I received a call last Sunday afternoon (Mother's Day) from Bernard, saying he was on his way to our house to deliver the donut. While still in a surprise mode (although I'd love having that Krispy Kreme donuts) I was asking myself why Krispy Kreme? Why not a cake or a bouquet of flowers?LoL. Then upon telling the hubby about the matter, he told me the tale how he get the flowery treat from Krispy Kreme delivered to our door step. Actually he was also surprise, since he doesn't know that he was one of those lucky 7 wishers.
Thank You Very Much Mr. Bernard Umali for granting my husband's wish! That was really a yummy treat.. Happy 7th Blogversary and more power to your Blog!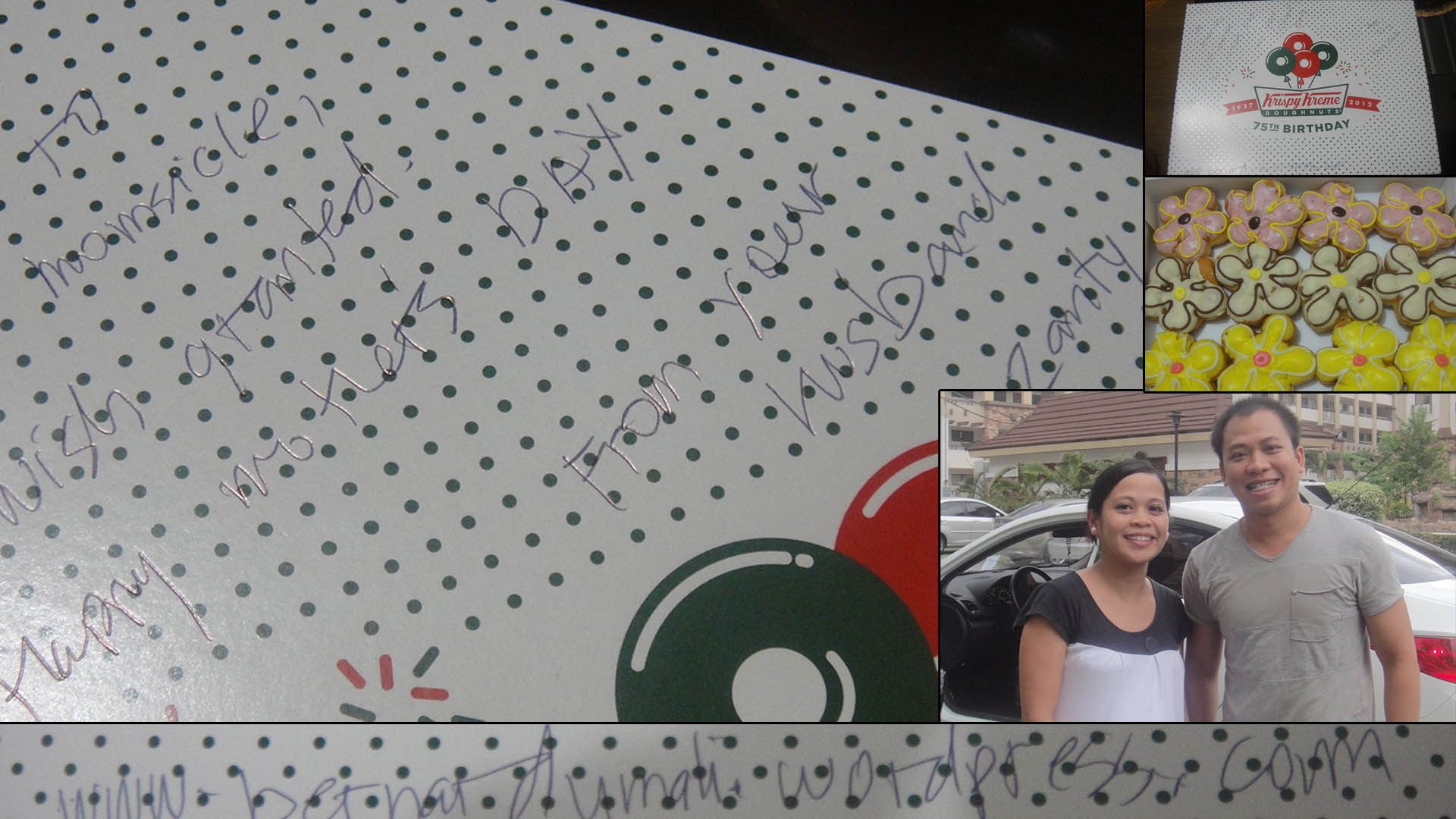 And right after the delivery of the Krispy Kreme Flowery treat, here come another surprise from hubby!
Thanks a lot dear! You just satisfied my sweet thoughts cravings!