Looking for fun and interactive science adventure? Then, the newly opened Robot Zoo at the NIDO FORTIFIED Science Discovery Center at the SM Mall of Asia is the perfect place for you and your kids as well as those kids at heart.
Imagine a giant squid with 18-foot tentacles, a house fly with a 10-foot wingspread, and a giraffe whose head and neck alone stretch 9 feet tall. I'm sure your active minds will be thrilled. How about a platypus, a bat, a grasshopper, a chameleon and more! You really have to see those critters and beasts featured at The Robot Zoo.
Here, take a glimpse of what awaits you at the Robot Zoo.
Upon entering, The Robot Zoo Giraffe will greet you which is one of the main attractions of the newly opened Robot Zoo. 
Another main attraction at The Robot Zoo is the semi aquatic mammal, Platypus.
Those were just few mind-boggling attractions at the Robot Zoo where the magic of nature comes to life in the coolest way. So what are you waiting for? Give your kids an enriching day at the NIDO FORTIFIED Science Discovery Center located on the Nido Fortified Science Discovery Center Exhibit Hall 2nd Level South Side Entertainment Mall SM Mall of Asia. Take them to The Robot Zoo and watch them have a blast as they witness robotic animation that perfectly imitates the real-life behaviors of some of the world's most amazing animals.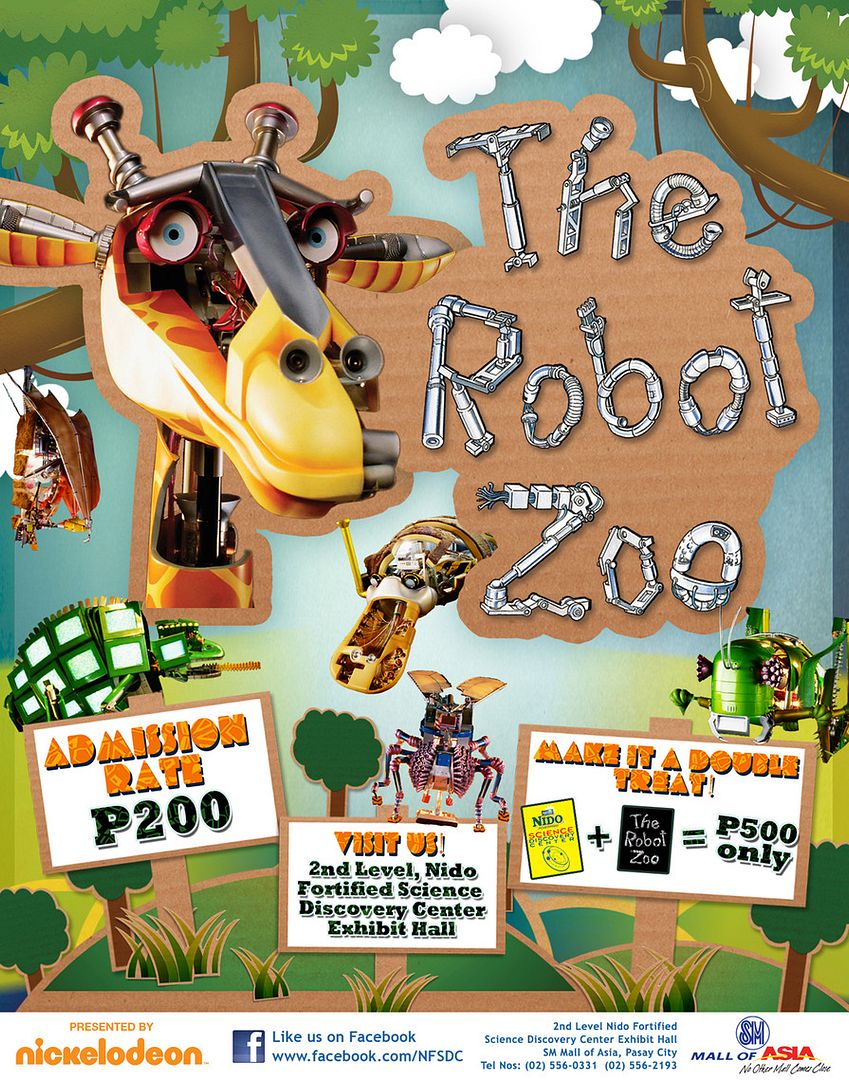 Watch the video below to know more about the zoo or visit NIDO FORTIFIED Science Discovery Center's YouTube channel, and check The Robot Zoo's promotional video or visit their Facebook page.
Do you want to see those  critters and beasts?  Here's your chance to get free tickets to The Robot Zoo!
NIDO FORTIFIED Science Discovery Center is giving away two "2" complimentary passes to our readers who will give us the best answer to this question, "I want to visit the Robot Zoo in SM Mall of Asia because…"
The winners will be announced on Friday, July 6, 2012 at 5PM. (GMCI will be the ones to collate this and forward to you, Saturday, July 7)
The zoo visits may be scheduled beginning July 9, 2012.