To date, interior works for our tiny home is still in progress and I am still in the process of choosing the items that needs to be installed. Recently, I have been browsing IKEA's website searching for the perfect lighting for the living and dining areas as well as the bedrooms. Oh by the way, I love everything in IKEA. How I wish we have IKEA show room here in Manila. I have to give two thumbs up to IKEA Malaysia's online shop for bringing me closer to modern lighting designs and of course for the convenient window shopping. Hubby will be home in a few weeks time so I had to pick my choice so he could buy the item and bring it home. And after carefully dredging their products, I have chosen the lighting below.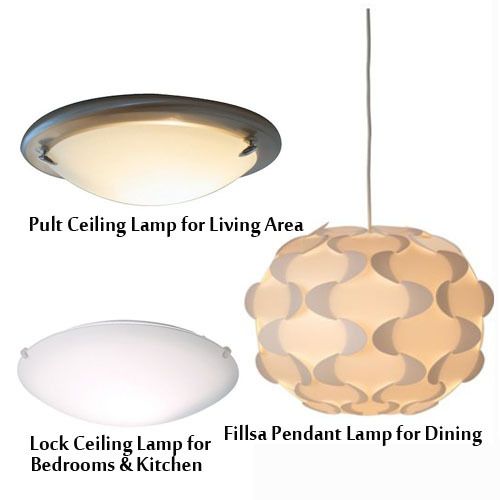 I wanted to go for a chandelier for the living area, but with only a small space (more or less 15 square meters), more likely the living area will look too stiff with a chandelier on the ceiling. So I opted for the "pult ceiling lamp" with a steel base plate and a frosted glass shade which will give a glare-free light. On the other hand, I soo love the "fillsa pendant lamp" for our dining area. The shade is made of Polypropylene plastic which diffuses light and gives general light to the area. It resembles a modern contemporary lighting plus it only weights 0.7kg.
Alright, after dredging for those lights, the next thing in line is to look for a good electrician who will assemble the lighting as well as the wiring. Though the product includes an assembly instruction which means hubby can do it, I guess it would be safe if a reliable electrician will do the job, right? Again, here's another hunting job. This time I need a good and reliable electrician just like the ones in Birmingham.
Did I just mentioned Birmingham? Oh yes! Just so you would know, if you are looking for electricians in Birmingham for your house improvement or interior design projects make sure that they are ELECSA approved for safety purpose. Before hiring, you may check ELECSA's electricians Birmingham contractor list to find out those who are registered for your assurance that you hired a qualified electrician.