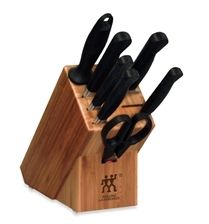 When you seek the very best in kitchen cutlery you want to go with names you can trust – JA Henckels knives and cutlery have been around since 1895 and are said to represent the best in German steel design. Other top names include handcrafted Shun Japanese cutlery which is made in the tradition of samurai swords. There is a lot to learn when you wish to make an investment in professional quality cutlery for home use and one of the best ways to learn is by surfing the web.
Begin by looking at the manufacturer's websites for each brand of cutlery – there you will learn the history of each brand and what distinguishes there cutlery in terms of design, materials and craftsmanship. While the manufacturers' websites are very helpful it's always important to keep in mind the fact that they are geared toward convincing you their brand is the best – therefore you'll want to look at other sites for reviews and ratings.
Take a look at the websites of the housewares and kitchen stores where you would be most likely to make a purchase and see if they carry the cutlery brands you like, then drill down and read about the specific knife of interest. You will soon see that people who have actually purchased the knives have weighed in with their thoughts on anything from price and value to design and performance; it can be very helpful to hear what these folks have to say both positive and negative. When you think about it you are often more likely to take advice from someone who knows what they are talking about so if these folks own the items they have a pretty good idea of what they do or don't like.