The Batang SuperBook "Bida ng Pagbabago Road Show" at Robinsons Magnolia was fun and inspiring. Thank you to Ms. Len Trance-Tienzo of CBN Asia for inviting my family and to my fellow mom blogger friend Olga of Tottering Mama for the vouch. My son Zoe enjoyed it. He was so excited when he saw the SuperBook trailer flashing on the screen that he immediately went ahead and left me at the registration booth.
The event wasn't only for the little ones but for parents as well. I was so blessed having witnessed the event. This is a great encouragement to us parents to introduce Jesus to our kids, learn the bible and build a relationship with Jesus. Batang SuperBook aims to raise godly and responsible citizens of tomorrow by imparting life-changing truths from the Bible to the Filipinos to which, I give my support.
The event was graced by super mom and SuperBook Agent Betina Carlos along with SuperBook agents China Halili and Benjamin Alves. Ruther who is a certified  Batang SuperBook and his funny and naughty puppet Titoy had also amused the audience.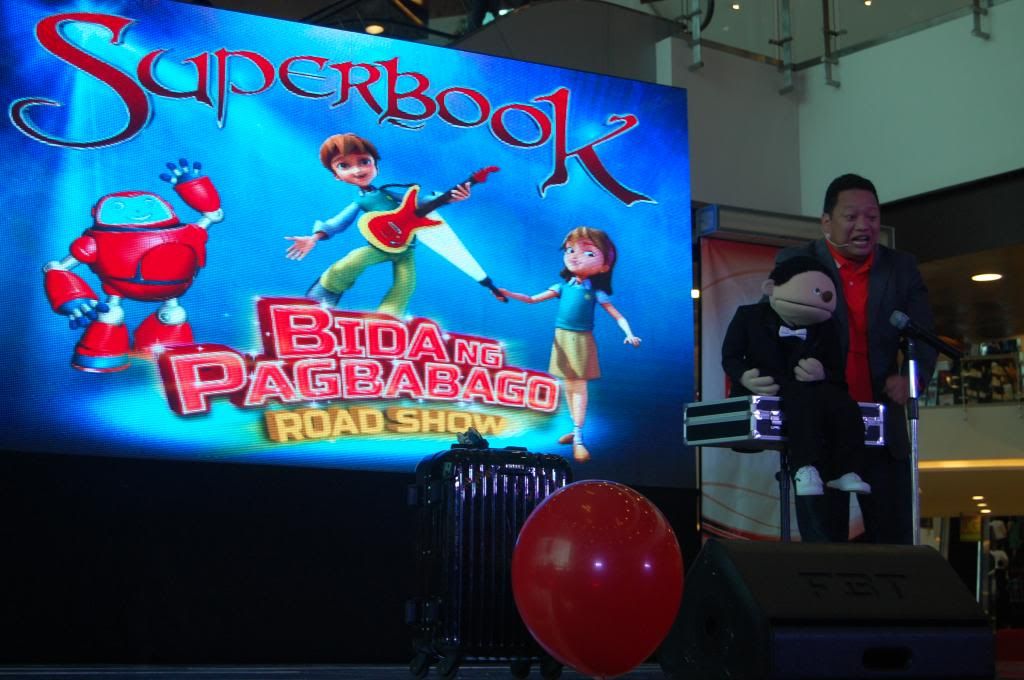 My 2 years old son had paid attention to the Giant Adventure, which was shown on the big screen. The 30 minutes film showing was about the little David; how he stands for his faith in God and defeated the giant Palestine Goliath.
Of course, the show wouldn't be complete without Gizmo! Zoe can't wait for his turn to meet Gizmo up close. Unfortunately, Angie wasn't able to capture a descent photo of us with Gizmo. I hope SuperBook will upload all the pictures in their fan page so I can have a copy.
Saturdays are something  we look forward to. Not just it's bonding time with the kids but we also get to watch another episode of SuperBook. Yes we are one of those families who wakes up early to catch SuperBook. SuperBook is aired every Saturday at 7:30 am on GMA 7.
Your kids can catch Gizmo at Robinsons Place Imus on July 28 and at Robinsons Manila on August 4. For more information, visit their website www.batangsuperbook.com and like their page https://www.facebook.com/BatangSuperbook.